Many people have wish to travel. Be it for a long journey or just a weekend get away. For those who have a luxury in time, the journey is more relaxing without having to pre-plan the trip. No rush, just go with the flow. But to some others the opportunity come the other way around.
For those who do not know where to go or what to do for a short break, I'm telling you this. Come down to the south of Malaysia to see a state with rich historical site, Melaka Bandaraya Bersejarah.
5 things to di in
Malacca@Melaka
:
1) Melaka Heritage Trail
Synonymous with the name Melaka Bandaraya Bersejarah the heritage trails is a must! Top in your list. Being colonized by the Dutch, Portuguese, Japanese and British, this small state in southern part of Malaysia hold many human history. The history of strength in fighting the conqueror and culture of the superior. Visit the church, the St Paul Hill, Dutch Cemetery, Fort A Famosa, Independence Memorial Building. All in on place.
2) Melaka River Cruise
Another nice excursion in Melaka is a river cruise by night. For one who still can't afford river cruising on a gondola in Italy, this perhaps could compensate it.
For eight years countless effort on beautifying and educating peoples about the cleanliness by the Melaka state government, particularly to whom living nearby the river bank , it has shown a fruitful results and emerged as the most sellable tourism product for a few years.
Since I've boarded the cruise in the day time too, i would prefer the late afternoon one. Seeing the old building, the graffiti, and peoples sitting in the cafes are much more interesting to me.
3) Jonker's Walk
This famous weekly night market only open on Friday and Saturday. Located in Jalan Hang Jebat (Chinatown), it also informally named as antiques street where it is worldly known as one of the best places to hunt and bargain for antiques.
Look for Dr Ho Eng Hui (the real doctor) who can pummel his index finger into a coconut. Or, you can just have a drink with friends at one of many cafes that has sprouted on this street.
Because of it is centrally located, Jonker's Walk is very easy to get to if you are staying in Melaka.
4) Taming Sari Tower
Witness the historical Melaka from a height of 80 metres! This 110m tower with 66 passenger capacity starts operating since 2008. The 7 minutes ride offers you a spectacular and panoramic view of Melaka UNESCO World Heritage City, Pulau Besar and the Straits of Melaka.
5) Baba Nyonya Heritage Museum
I have visited this museum of a strait- born chinese family, a story of eight generations. Privately owned by the late Baba Chan Cheng Siew's (1865-1919) family, the vision is to revive Malaysia's Peranakan identity and heritage. Here I got to know that in the old days the Chinese bought their jade from Burma and not from Guangzhou or Beijing
(why are we buying jade in Beijing? musykil den).
Please ensure to book in advance to avoid disappointment.
Nos. 48 & 50 Jalan Tun Tan Cheng Lock 

75200 Melaka, Malaysia
Tel: +606-283 1273
6) BONUS - Eat! Eat! EAT!
hahahaa....you'll be spoilt for choices. Try these local dishes...
1. Asam pedas ikan
. A must eat while in Melaka.
source nisayachiru.blogspot.com
2. Kuih keria Haji Jalil at Limbongan
. The kuih keria looks like doughnut but it's made of sweet potato, deep-fried and coated with crispy, sugary crust. Ouch! it's quite sometimes I didn't bake this kuih.
source http://jming88.blogspot.com
3.
Nasi gunting Hj Awal
at Melaka wet market.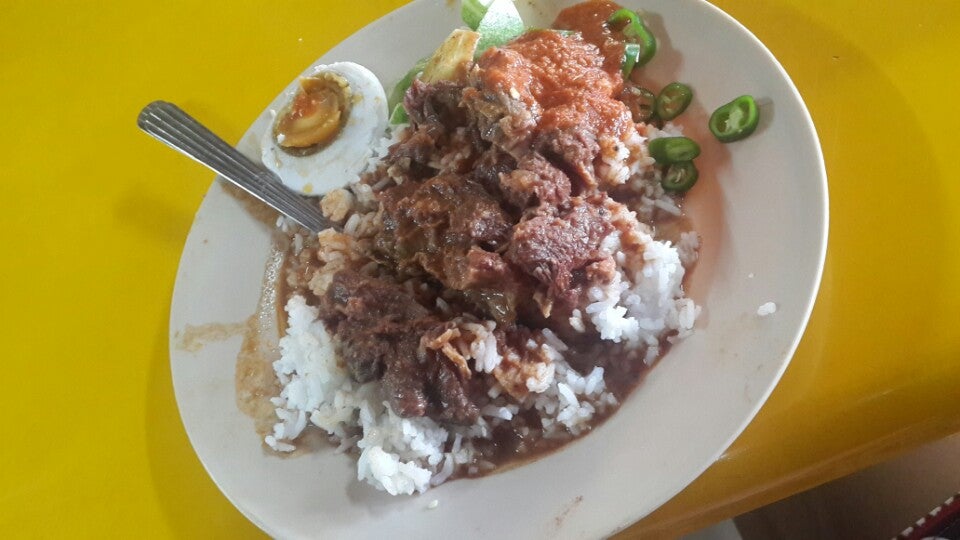 4.
Mi Hassan Bodoh at Tengkera
. I guess the word 'bodoh' (stupid) is because the fried noodles doesn't have any vegetables. Only the noodles and 'chilli paste'. Don't worry, you won't be stupid after eating it hahahaaa...
5.
Roti canai kepala ikan Awang
di Bukit Beruang
p/s In couple of years ahead Melaka will have their own Outlet Centre for tourists to do more SHOPPING - more reasons to visit Melaka :)))).
Melaka is only 2 hours drive from Kuala Lumpur, see you this weekend!